Clan Gunn Generations: St. Andrew's Weekend, Edinburgh, 29th & 30th November 2019
Bookings for our St. Andrew's Weekend closed on 30th September 2019. In order that we can plan events and make them a success for our members, please always try to book early and well before booking closing dates to avoid any potential disappointment.
We are excited to share with you the itinerary for the first weekend of events planned by our new 'Clan Gunn Generations' team. These events are leisure and activity based, rather than activities focussed around our Clan's history. They are intended to be events for all the family, for members in their youth and – of course – for those members who are young in heart!

The events take place in Edinburgh on the last weekend of November, to coincide with St. Andrew's Day. For those who have never been, it's a magical time of year to visit Edinburgh. The early dark nights bring an atmosphere to the Old Town and Royal Mile, the Christmas Market in Princes Street Gardens – which gets bigger every year – is in full swing… so come along, take in the fantastic sights and atmosphere of Edinburgh, take the opportunity to get around and do some Christmas shopping and have a fun, activity packed weekend with your fellow Clan members.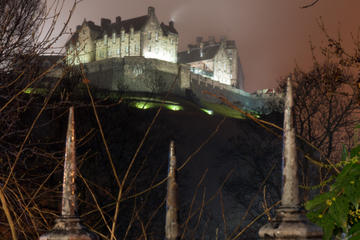 As this is the first weekend of this type we have planned, we really want to see plenty of support from everyone. If the weekend is a success, we'll make sure to do more like it in future. That said, based on initial responses, we are already expecting one of the events – the Ghost Walk – to be extremely popular. We only have 30 places available on that so it's first come, first served. Yes, booking events for the end of November already may seem a bit early – but do so or risk missing out. In any case, the deadline for booking onto any of these events is Monday 30th September 2019.

Clan Gunn is arranging neither transport to or within Edinburgh nor any accommodation – you are responsible for your own travel and accommodation arrangements. Please try to book accommodation early, as Edinburgh is very popular at this time of year. Most events, with the exception of the Park Run, are within relatively easy walking distance of the Royal Mile.

** Hot Press ** Ice Skating, in the original itinerary from your Gunn Herald, may not be available in Edinburgh this year due to a location dispute. News sources say discussions continue but here at Clan Gunn, we do not want to risk disappointing people by asking you to book that option only to have to cancel if – as is currently the case – Edinburgh's Christmas will not, after all, contain an ice rink this year. See news about the situation here.
Instead, we're going to hit the Edinburgh Christmas fairground rides! With everything from Helter Skelters to Carousels to super big Ferris Wheels and white knuckle rides that you really shouldn't consider going on while wearing a kilt, there's something for all the family – from actual kids through to twenty-somethings to those big kids at heart!
The itinerary

Friday 29th November 2019
Dinner and drinks meet up.

Saturday 30th November 2019

Blow off the cobwebs of the night before with a 5km fun run. As it's a fun run, people of all ages and paces are welcome to join in – just take things at the pace you're comfortable with. To make it extra memorable, some members of Clan Gunn are already promising to do this run in the Clan Gunn kilt! If you've got one, why not wear yours too!?

Clan Gunn goes Ten Pin Bowling! We don't need to explain ten-pin bowling to you too much, do we? Good. Come and join us in a Clan Gunn bowling session consisting of two games each, in lanes of six. For complete beginners and the very young, we will try to organise a lane with guard rails so that your ball still hits the pins – don't panic! For everyone else, we'll try not to be too competitive… or maybe not.

Option 1: Clan Gunn hits the fairground rides at Edinburgh's Christmas! With everything from Helter Skelters to Carousels to super big Ferris Wheels and white knuckle rides that you really shouldn't consider going on while wearing a kilt, there's something for all the family – from actual kids through to twenty-somethings to those big kids at heart!
Option 2: Princes Street Christmas Market meet up. If fairground rides are not your thing, why not take the opportunity for a stroll around the many market stalls and eateries on the ever-wonderful Princes Street Christmas Market. We love this market, with it's traditional German Christmas market approach. Find everything from Christmas gifts to decorations and, of course, mulled wine! Try not to drink too much if you're coming on the Ghost Walk afterwards!

Clan Gunn Goes on a Ghost Walk! You're in Edinburgh. In winter. Darkness descends on the city. Is this a time for Edinburgh's many ghosts to make an appearance? You may be just about to find out. You may have seen TV's Most Haunted – now you're going to live that experience. Our experienced local guide will share grisly tales of murder and execution as we walk the narrow streets of Old Town. Just as you thought things could not get any scarier – they will, as we descend into the legendary, haunted Blair Street vaults. Are you brave enough to stay in a place from which TV presenters have fled in fear? For those who survive, your ticket includes complimentary drinks – a wee dram for all those who have survived Haunted Edinburgh's terrors. This is a customised, private tour, exclusively for Clan Gunn, and we expect it to be very popular. First come, first served. Return your booking form as soon as possible. Please note this is primarily a spoken word, history based tour of reputedly haunted places with zero theatrical scare effects. While the Ghost Walk is a fairly comfortable walk, it involves accessing stairs and a subterranean environment that may be difficult for people with mobility issues. It is not recommended for children (U18).

[It is expected that the Ghost Walk will take roughly two hours. After the event, knowing Clan Gunn's members, it is also expected that quite a few of us will go out drinking afterwards. So pace yourselves throughout the day!]